The Best Vegan & Vegetarian Places in Bali
25أكتوبرThe Best Vegan & Vegetarian Places in Bali
From Brunch to Desserts, You Won't Be Disappointed!
There's a reason why Bali is in Elizabeth Gilbert's famous book-turned-movie, Eat Pray Love. Not only is this place where the author found love, it's also an island of many possibilities.
With so much to see and do, there's also so much to devour! With the biggest Hindu population in Indonesia, Bali is a haven for plant-based eaters. But with so many choice floating on the Internet, how do we decide on what's worth it?
Here's a list that might make things easier for you. You can thank us later! 😉
For a bit of everything: The Shady Shack @ Canggu
Ever have days where you can't settle on what to eat? Well thank goodness for this al fresco café that serves vegan, gluten-free, and dairy-free food. Come here any time of the day and try a little bit of everything: from the Cheeseburger that looks like the real deal to their famous Nori Bowl. If you have space left to fill, then maybe a slice of vegan chocolate cake? Whatever it is, you're sure to leave with a full and happy belly.
For scrumptious Indian flavours: Roti Daal @ Canggu and Ubud
It's fair to be critical of Indian cuisine. It has to be flavourful and taste authentic at the same time. But fret not! We have a solid selection here.
What makes Roti Daal stand out from the rest is its home-style food and refreshed daily menu. Talk about keeping things exciting! Have the vegan Biryani or Thali of the day for lunch and dinner, and then wash it down with Masala Chai. Though they specialise in hearty meals, the restaurant also serves all kinds of roti and samosas for a light and quick bite.
For special occasions: Sakti Dining Room at Fivelements @ Ubud
If you're heading to Bali for a celebratory holiday, then this award-winning fine dining restaurant is hands down the place to be for unbeatable ambience and food. Other than its gorgeous eco-luxurious setting, Sakti is all about quality with its raw gourmet options and locally sourced food prepared with precision and love. Not only will you get to dine within a tropical paradise and a view of the Ayung River, you will get a taste of one of the most stunning and well crafted dishes in Bali.
For yummy raw food and desserts: Alchemy @ Ubud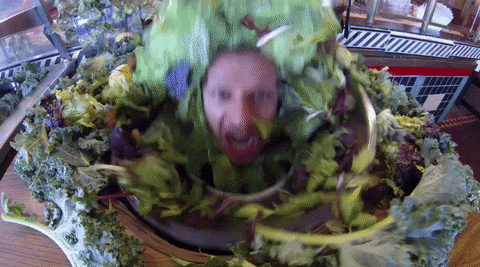 Ask any vegan or vegetarian who's been to Bali, they will surely have heard of Alchemy, one of the island's more popular vegan spots. It's also the first 100% raw vegan café in Bali. Known for their build-your-own salad bowls, you'd be surprised at how filling the raw selections are! This place is also said to have one of the best raw chocolate desserts in Bali, so try it out yourself. There are also vegan sweet treats like Snickers Pie, made with chocolate, nougat, caramel and peanuts. Who says plant-based food is bland and boring? Alchemy is here to prove you wrong.
For meatless meals that even carnivores will love: I Am Vegan Babe @ Canggu
While vegetables are a staple in a plant-based diet, this restaurant proves that vegan food is a better cruelty-free option when it comes to your favourite meat dishes. Savour a variety of dishes like the Compassion 'Chicken Burger', Tofu Benedict, and Club Sandwich. You won't believe how everything here is made without any meat. It's undeniably one of the hottest plant-based restaurants on the island.
You might also like